On horseback …
Pony riding in Salzburger Land
Feel like an Apache or become a cowgirl, firmly in the saddle at Holzleb'n! Several times a week we saddle up our 3 icelandic horses and our  4 ponies for you. All are surefooted, patient and used to children – perfect for all those daring to ride horseback for the very first time. But good riders too, are guaranteed to have fun in our riding arena! The horse riding is free of charge for for the kids! We offer as well riding lessons for a fee in our chalet village.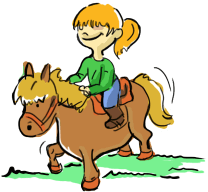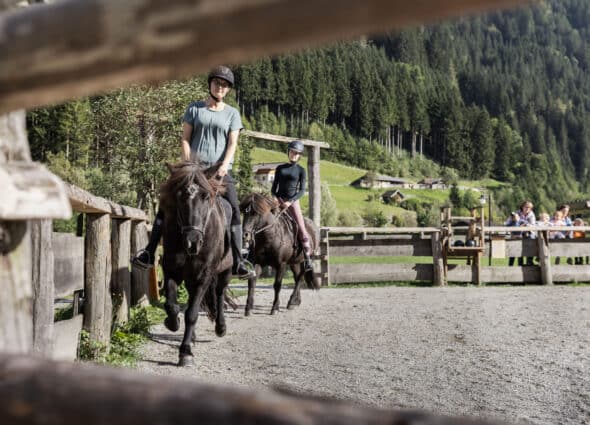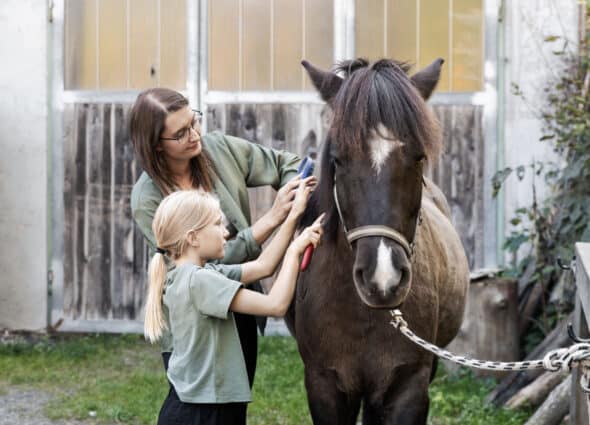 Riding lessons
Alex offers riding lessons for children and adults on about 5 days a week (in summer) for a fee. Riding is done in English style on our well-behaved Icelandic horses and ponies:
Riding lessons for beginners or advanced riders on the riding arena (25 min. or 50 min.)
Riding lessons on the lunge – from 5 years (25 min.)
Pony walk for the youngest guests (25 min.)
Horseback rides on our "forest and meadow" riding trail (50 min.)
Appointments for riding lessons are made on site. In addition, several times (2 times in winter) per week free pony rides for children take place in our riding arena.
Riding out into nature
For experienced riders we also offer short rides around the holiday village. A popular trail leads directly past our forest playground.
Groom,
clean,
pet
If you want to be a real rider then of course you want to know how to look after ponies. Here at Holzleb'n you will learn how to groom and saddle. Of course if you want you can help out in the stables!