Breakfast on the farm
Morning tastes so good
Good start into
the day
Good Morning! Smile as the sun shines: Your breakfast rolls & pastries are included in the price of your holiday, regardless of whether you are staying in one of our chalets or in an apartment. So what else is included in a real farmhouse breakfast? Delicious specialties from the Grossarl region. Simply add these to your booking. Here are our breakfast options: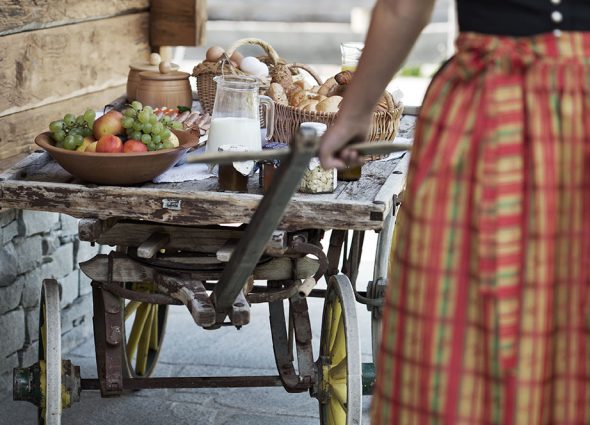 € 24 p.p.
€ 12 p. child (6-11 y.)
Alpine meadow breakfast from the traditional hand-drawn cart
A variety of oven-fresh rolls, wurst, smoked and other hams, tasty organic farm cheeses and yoghurts, fruit and muesli. And blossom honey, home-made jams, butter and boiled eggs from the farm and orange juice. All served to you from our traditional hand-drawn farmhouse cart. Our "breakfast fairies" set the table and prepare everything.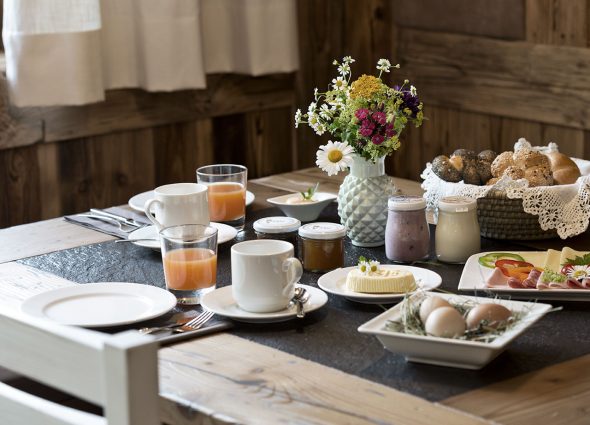 € 16 p.P.
€ 8,0 p. child (6-11 y.)
Breakfast in the Farmhouse Dining Room
Coffee is ready! A wonderful smell of fresh bread and your table is already laid for you. We are delighted if you start the day with us in the farmhouse dining room of the main building. We like to spoil you with fresh breads and pastries, hams, cheeses and yoghurt from the organic farm, fresh fruit and muesli together with blossom hones, home-made jams, butter and eggs from the farm and orange juice.
For many people the best meal of the day!