Adventure Holiday for Kids
Adventures in our Family Apartments in the countryside of Salzburg
Feel as free as a bird. Discover your talents. Grow stronger every day. Here at Holzleb'n there is a new adventure waiting for you around every corner. Outside and in nature. Our family apartments in the countryside of Salzburg are built around our farm. Our petting zoo and pony rides are just perfect for young animal lovers. How about a barbecue e around the campfire, a night spent in the hay or a forest safari? Read here, some of the adventures you will enjoy here with us at Holzleb'n:
Sleeping in the hay
An absolute highlight for night owls! Spend the night in our stable. With our childminder, snuggle down in your sleeping bags and exchange exciting adventure stories by the light of flashlights.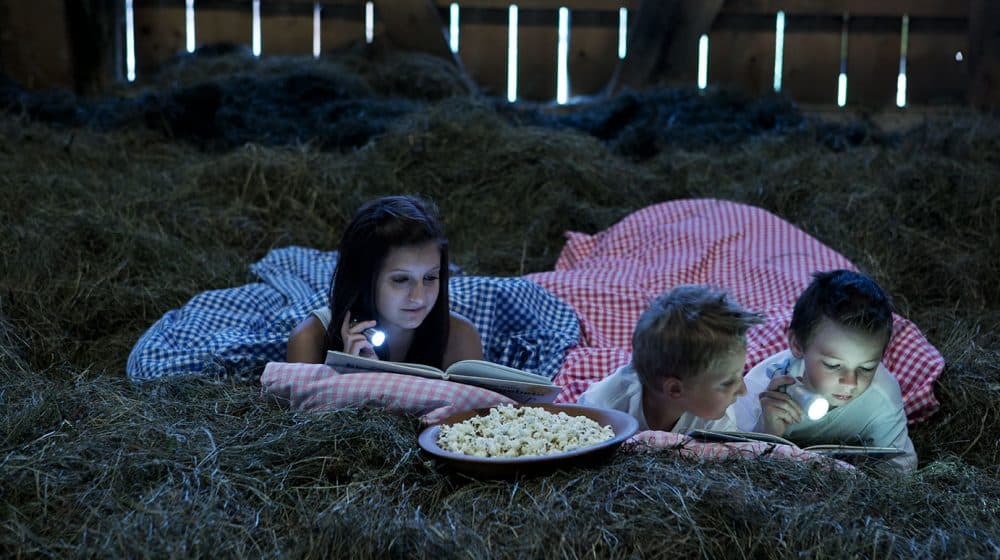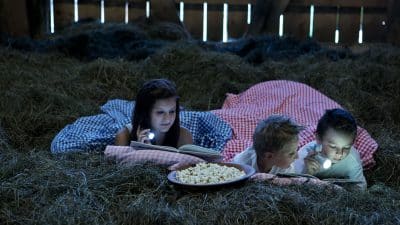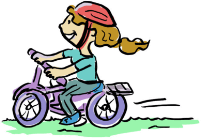 Play paradise in nature
Give full speed!
Our vehicle pool is second to none: Race around on our go-karts and mini tractors through the holiday village or rent a top e-bike with a trailer or child seat!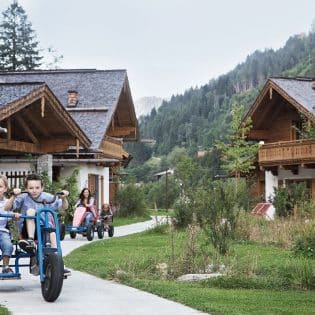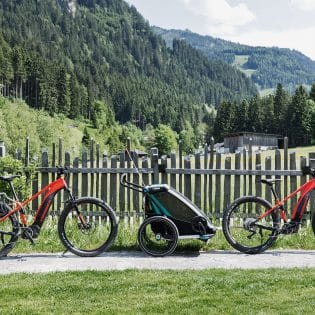 Play Paradise
No time here to get bored! Our playground has a huge trampoline where all little tearaways can really let off steam, and our youngest holiday visitors are totally happy in our kids playroom with lots of wooden toys.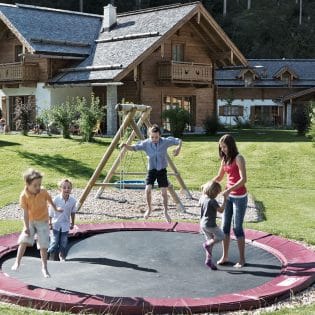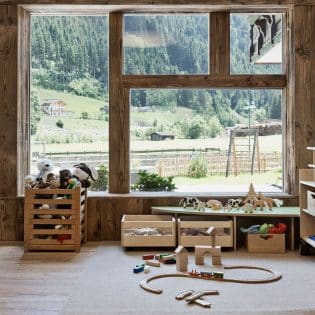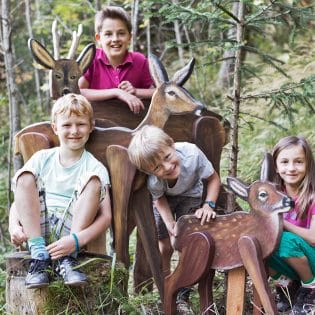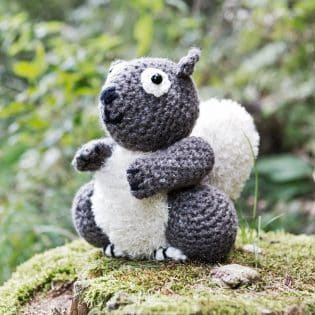 Woodi's World
Woodi, the playful squirrel has built an exciting forest nature trail and a forest playground with a treehouse, flying fox and much more – just for you! After all, the forest is really the most exciting of all adventure playgrounds!
Woodi for your Home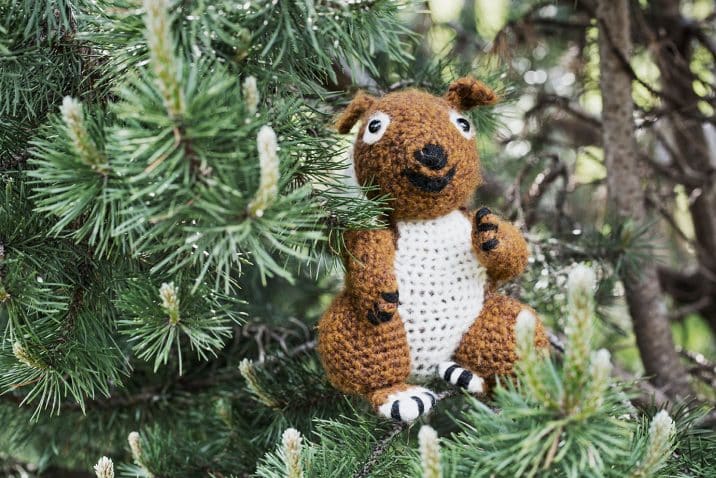 "Pssst! It's me – your Woodi. You can also take me home as a souvenir of your adventures. You can buy me as a stuffed animal in the Holzleb'n village store! So the fun can continue at home! By the way, I am a genuine Austrian product, lovingly crocheted by hand – so a real one-of-a-kind!"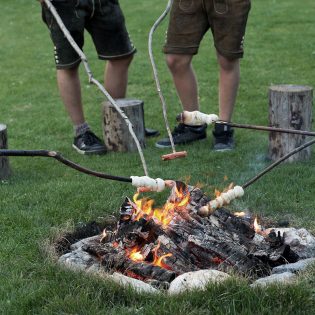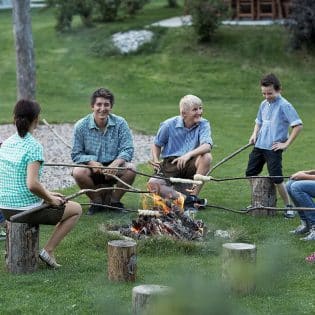 Campfire
Tasty sausages and crispy bread-on-a stick: Every week in the summer months we invite you to enjoy a barbecue evening with us around the campfire. For real cowboy feeling!
Kids' ski lift & sledding hill
Only a few steps away is your toboggan paradise and across from Holzleb'n the kiddies ski-lift. In no time at all you are up there on the ski slopes. The use of the ski-lift is free!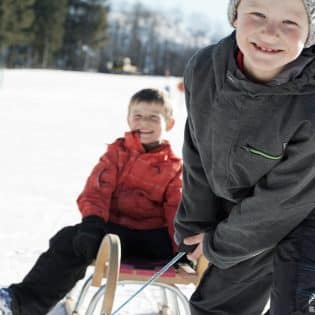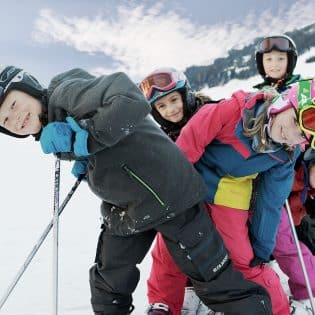 Snow Playground
In addition to the children's ski lift, the "adventure hill" opposite the holiday village offers much more as for example a 90 meter long "magic carpet" that brings you effortlessly up the hill – free of charge, of course!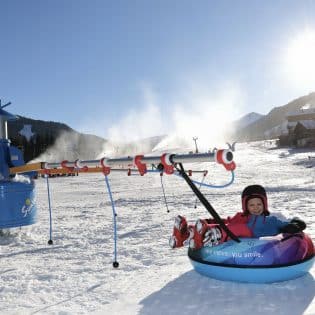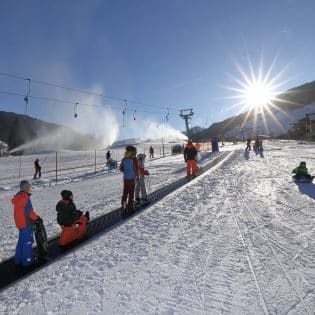 All adventures at a glance
Summer
1 x per week "Sleep in the Hay" (July and August)
1 x per weekcampfire with sausages and bread-on-a-stick
Free pony riding all week
Helping to feed the animals
Helping with the hay harvest (July and August)
Go-Kart and (mini) tractor driving
Huge adventure playground
Kids playroom with wooden toys
Treading the water in the barefoot pond
Woodi's World: Forest nature trail and forest playground
1x per week family hike ( July and August)
"Berg Gesund" (Mountain Health) active program (walking/climbing tours etc. – take part for free!)
Free admission to the swimming baths
Cycling (bike and e-bike rental)
Winter
Children's skilift and beginner slope at the doorstep. The use of the ski-lift is free!
Children's ski training at the doorstep
Ski region Grossarl-Dorfgastein (without car to the gondolas)
Tobogganing and bobsleigh (free toboggan rental) at the doorstep
Toboggan run with night lighting nearby
Torchlight hiking tours
Fairytale hiking tours by torchlight
2 x per week pony riding
"Berg Gesund" (Mountain Health) active program (guided snowshoe tours and more – take part for free!)
Children's playroom with wooden toys
In July and August we offer free children's daycare in 2 days of the week, for children 3 years and older. On request and for a fee we would be happy to provide daycare outside of these times or for younger children.