Your hiking holiday in Grossarltal
Up, up and away!
400 kilometers of hiking trails. Over the mountain pastures past the mountain huts. Grossarltal is known as "Valley of the 40 Mountain Pastures". Here you are so close to nature and can discover the mountain world at your own pace. Look forward to brisk Nordic Walking excursions, gentle walks with the whole family or more demanding tours up to the mountain peaks of the Nature Reserve "Hohe Tauern". Discover the wonderful walkways of Salzburg::
"Valley of Huts"
Berg-Gesund
Our partner"Berg-Gesund" (Mountain Health) offers you a free activity program. How about yoga hikes, trying out a fixed-rope climbing route or even hang-gliding? With Berg-Gesund your hiking holiday in Grossarltal is full of variety.
Family hiking tours with the hosts
In July and August your host Sepp or Johanna invites you once a week to a hiking tour free of charge for the whole family. An absolute highlight in your hiking holiday in Grossarltal!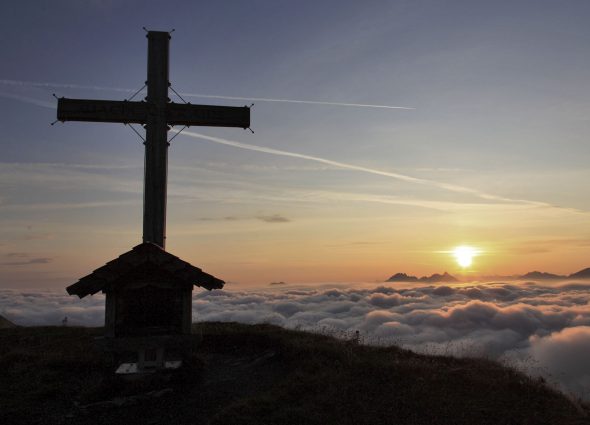 Sunrise Hike with Sepp
What an experience! Sepp accompanies you in the gentle light of the first rays of the sun up to the "Schuhflicker". This one-hour hike starts with a ride up the Aualm. At the summit we enjoy a great breakfast there. The hike takes place on request. A minimum number of participants is required.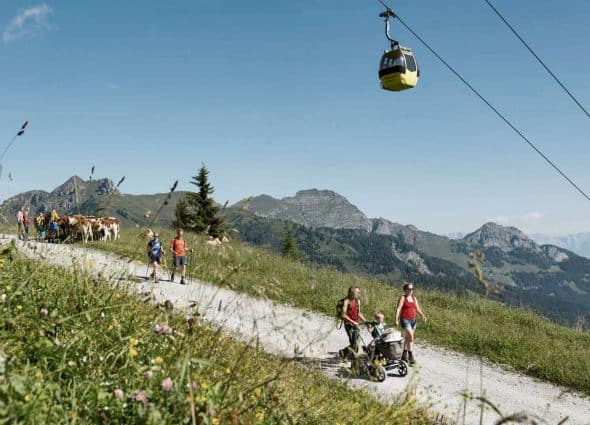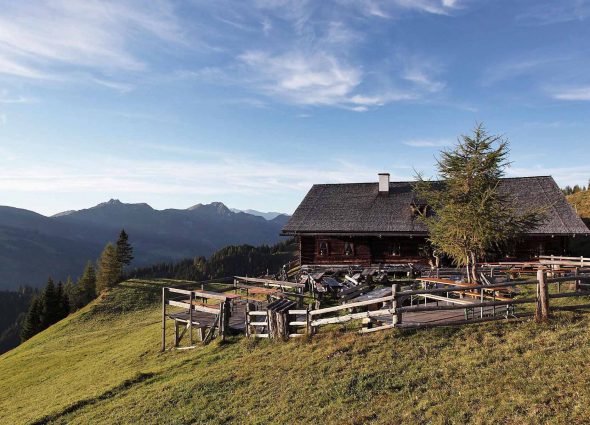 Family Paradise Heugathalm
Our personal hiking tip for families is a tour around the idyllic Heugathalm (1235 m). After a walk of around 1.5 hours, starting directly from the holiday village, you will reach a real family paradise with playground, petting zoo and with lots of tasty things to eat. Note the opening hours! It is best to ask at the reception.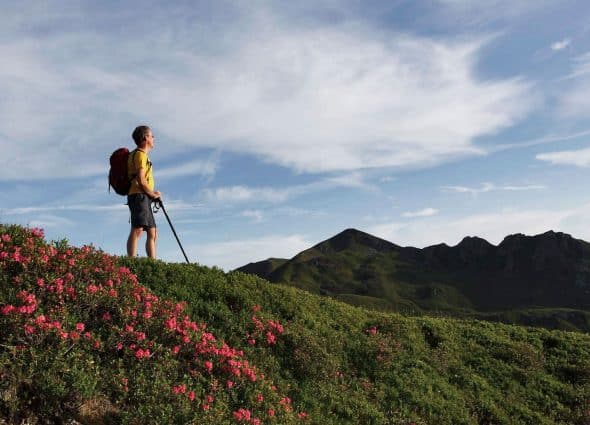 4 Alpine pastures hike
From the parking lot Grundlehen you hike to the Filzmoosalm (1 hour). Then continue to the Loosbühelalm (½ hour), to the Weißalm (½ hour) and finally to the Ellmaualm (½ hour).
Why we find this tour so great: From all 4 alpine pastures you come back to the parking lot Grundlehen. So you can hike 1,2,3 or 4 alpine pastures, depending on your mood. Also ideal for children: The huts are catered and all have a playground.
Nordic Walking
Pick up your sticks and off you go! In Grossarltal there are numerous tours from easy through to demanding. With the magnificent landscape of the Hohe Tauern in the background you can set off directly from Holzleb'n. You can perfect your technique on guided tours or on a course.